7 Best Fishing Locations in Canada for 2019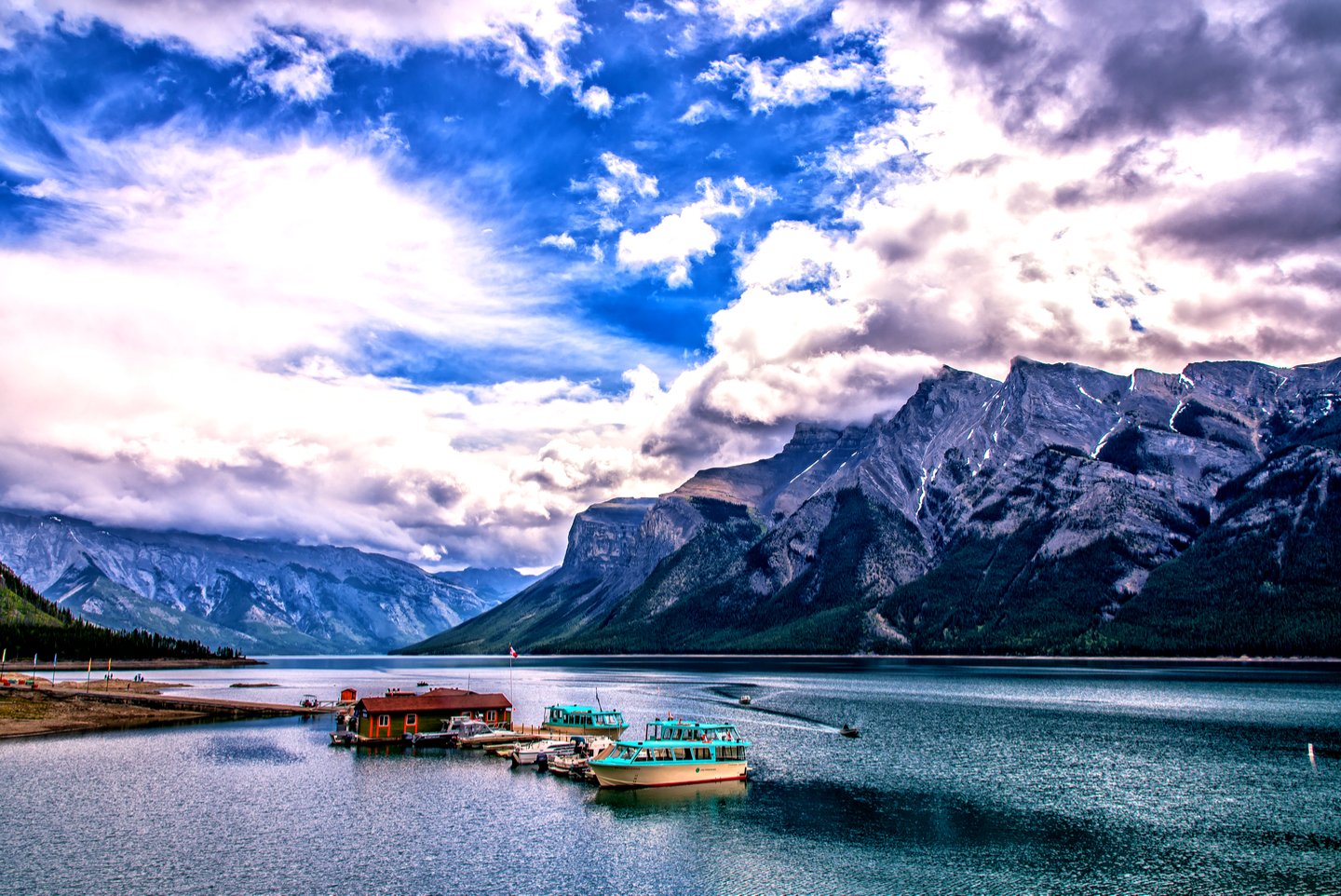 If you had to pick just one country to spend your fishing days in, what would it be? You might think this question is hard to reply to. Sure, some countries have monster fish weighing over a thousand pounds, but if you're an average angler, you'll want non-stop reel action in a unique locale you can truly enjoy. After you've read this, you'll see why Canada is a fishing gem like no other, and why it gets our vote. Today, we're taking a look at our seven best fishing locations in Canada for 2019.
No matter if you're a freshwater or a saltwater angler, fishing in Canada is sure to spoil you for choice. There are more than 200 fish species in Canada, and around three million anglers cast their baits in its teeming waters each year. You can do anything from fly fishing and offshore trolling to ice fishing in these parts. Oh, and did we mention that this is where you'll find some of the most beautiful scenery known to man?
Seriously, do you know of another place with over two million lakes, scattered over a land full of volcanoes, forests, and arctic zones? Neither do we.
This list could have easily been a top 77, so we'll have a few honorable mentions along the way. Without further ado, our picks for the seven best fishing locations in Canada are:
Known for: Chinook Salmon and Pacific Halibut
When to visit: May through September
Click here to see the regulations and licensing information.
Ucluelet is a small township on the western coast of British Columbia.
Up until recently, Ucluelet was a quiet little town, mostly unknown outside of Canada. However, in recent years, word started spreading about the fantastic water action this locale on the West Coast of Vancouver Island has to offer. Today, more than 90 thousand visitors come to this area each year to enjoy some of the best Salmon and Halibut fishing on the planet.
Most of the fishing charters in Ucluelet will take you offshore fishing to the Big Bank. This undersea plateau is located around 25 miles offshore and is a spawning ground for huge numbers of bait fish. People call this place the "Salmon Highway," but you can catch giant Halibut here, as well.
Chinook Salmon weighing over 30 pounds are not uncommon around Ucluelet, especially during summer months. Salmon of this size are referred to as a "Tyees," meaning Chief in Chinook language. Coho Salmon is good to catch during summer, too. You can get a hook on Pink, Chum, and Sockeye Salmon during August and September.
If you'd like to keep closer to shore, the shallow waters of Barkley Sound are the perfect place to go for Halibut, Rockfish, and Lingcod. If freshwater is your thing, especially fly fishing, we'd recommend a 20-minute drive to the scenic Kennedy Lake Provincial Park. This the largest freshwater fishery in the area and it will put you on some Cutthroat Trout.
Our honorable mentions for this area go to Tofino and Sooke.
Known for: Lake Trout, Northern Pike, Arctic Grayling, Whitefish
When to visit: June to September or December through March for ice fishing
Click here to see the regulations and licensing information.
Yellowknife is situated on Great Slave Lake, the 10th largest lake in the world and the deepest in North America. It's remarkable that a place this remote has so much to offer – from record-breaking Trout and the mesmerizing Aurora to flawless diamonds, Yellowknife has the whole package.
Lake Trout is probably the most sought-after fish in these parts. And no wonder – these critters can reach a whopping 75 pounds! They will put up a fight though, so you'd best be on your A game. Northern Pike is also great, with some of the bigger ones reaching the 40 pound range.
The pleasant summer months are a great time for fishing in Yellowknife. Not only are fish on the bite, you can catch them in the cool midnight sun. Now that's hard to beat. June is your best bet for trophy Lake Trout. Northern Pike is usually on the bite from late June to late September.
The area is dotted with comfy fishing lodges and houseboats for you to spend your fishing days (and nights) in.
On the other hand, visiting Yellowknife between mid-November and the beginning of April will let you experience this area in a totally different light. Literally. This is when the magnificent Northern Lights are on display in all their glory. This is also the perfect time to enjoy some of the best ice fishing Canada has to offer.
Known for: Coho and Chinook Salmon, Steelhead, Brown, and Lake Trout
When to visit: May to October
Depending on where you're from, you'll need a resident or non-resident Ontario fishing license.
The smallest of the Great Lakes, Lake Ontario provides a unique blend of year-round reel action and top-notch tourism. The mostly urbanized coast is home to countless fishing guides, specializing in all kinds of techniques and species. The fish are as varied and abundant as you can find in the entire country.
Trout fishing is nothing short of amazing, with Steelhead, Brown, and Lake Trout biting throughout spring and summer. Smallmouth and Largemouth Bass fishing is great from June all through October.
But the king of them all has to be Salmon. Salmon fishing in Lake Ontario is what draws thousands of avid anglers to this area year after year. Tournaments like the renowned Great Ontario Salmon Derby only add to the excitement.
During the summer months, you'll be venturing into deeper waters for Salmon. They like cooler temperatures, so you'll do well with a trolling setup with downriggers. Trout will keep closer to shore during this time, though.
Mississauga is next door to beautiful Toronto, where you'll find no shortage of things to do. If you're in town but would like a more tranquil lake to fish, head north to Lake Simcoe. Spring fishing in Lake Simcoe will put you on the elusive Black Crappie, as well as Northern Pike and Lake Trout. If you're planning your visit during the summer, you'll have plenty of Smallmouth Bass to reel in. During the winter, Lake Simcoe will become home to some of the most competitive ice fishing challenges in the country.
4. Lake Diefenbaker, Saskatchewan
Known for: record breaking Rainbow Trout
When to visit: September to October
Click here to see the regulations and licensing information.
One of Canada's largest artificial lakes, Lake Diefenbaker is home to some of the world's biggest Rainbow Trout. The current world record, a 48 lb whopper, was caught in these waters by a Saskatchewan fisherman named Sean Konrad.
The presence of Rainbows in these waters is purely coincidental, though. About 10 years ago, a large number of these monsters escaped from a local fish farm, and found themselves in the Lake. Many speculate about the ethics of catching these artificially stocked fish. One thing's for sure, though. Since these monster Trout cannot reproduce, time is running out for people who've set their sights on breaking the current record.
Luckily, there are a number of other species to enjoy on Lake Diefenbaker. The lake boasts hundreds of bays and coulees teeming with Walleye, Northern Pike, Yellow Perch, and Whitefish. You'll have a number of well-serviced marinas and boat launches to choose from. May, June, and July are when the Lake comes to a buzz, with each month having its own fishing tournament.
Known for: Giant Bluefin Tuna
When to visit: mid-July to mid-October
Click here to see the regulations and licensing information.
Heading over to the Atlantic, we'll take a look at a place many now call the "Tuna Capital of The World." This might sound like a bold claim, but as any North Lake Captain will tell you, these waters yield 600–1,200 lb Bluefins pretty much on a regular basis. That doesn't mean that you'll catch them easily – these beasts will put up a fight. You can expect a three-hour battle before you finally get a chance to reel one in.
What sets this area apart from other Bluefin Tuna fisheries is just how close to land you can find these monsters. As they prepare for their return migration to the south, Bluefins approach the Gulf of St. Lawrence just in time for the annual herring spawn (mid-September). This is a feast Bluefins just can't say no to. They zoom in from the continental shelf with reckless abandon and this is what local captains have made a living off of.
Tuna is not the only thing you can expect to catch here – Mackerel and Shark fishing are great, too. Makos and Blues make their appearance in late summer, so if you're flexible with your time, September will give you the best variety of species to go for.
Known for: All five species of Salmon
When to visit: July to September
If you're serious about Salmon fishing, Campbell River is the place for you. Widely recognized as the Salmon Capital of the World, this picturesque area is unmatched both in the variety and abundance of Salmon it produces. Every year, millions of migrating Salmon flood the Discovery Passage on their way to the streams and rivers they spawn in.
And it's been this way for over a hundred years. This is why Campbell River is one of the most famous Salmon fisheries you'll ever find.
Oh, and we're not talking about just one variety of Salmon, either. The five species of Salmon are Chinook, Chum, Coho, Pink, and Sockeye. And guess what – you can get your hook on all five of them right here in Campbell River!
As for the seasonality, you'll be able to get a Tyee Chinook from July to September. Coho season is from June to September, whereas Pink and Sockeye are on the bite from mid-July through August. If you want to get your hands on Chum Salmon, autumn is the time to catch them.
Saltwater Salmon fishing in Campbell River is just as good as the freshwater action, so whatever your preference may be, fun is pretty much guaranteed. There are local guides who will gladly teach you the ropes of fly fishing. Others can set you up perfectly for some offshore trolling. Of course, there are other fish you can catch as well, so if you get tired of Salmon, you can always switch to bottom fishing for Rockfish or Halibut.
If you're looking for great fishing but just can't leave those big city lights, we recommend the bustling seaport of Vancouver.
Known for: Walleye and Smallmouth Bass
When to visit: all year round
Depending on where you're from, you'll need a resident or non-resident Ontario fishing license.
Lake of the Woods is, without question, one of the finest fisheries on the continent. Boasting an incredible 14,552 islands and 65,000 miles of shoreline, the Lake offers not only fantastic fishing, but some spectacular vistas as well. There are countless recreational facilities to choose from, making the Lake a perfect getaway for friends and families.
This incredibly diverse ecosystem is home to the vast numbers of Walleye, Muskie, Northern Pike, Largemouth and Smallmouth Bass, Lake Trout, Perch, and many more.
Walleye fishing is exceptionally good. You can catch these critters from mid-May all the way to October. After they spawn in spring, Walleye will keep to the rocky shallows. Summertime will bring them to the oxygen-packed weeds and this is when you should put your jigging skills to use. If you're planning on visiting the Lake during fall, you can expect some monster-sized Walleye on the bite. Look for underwater structure for the best results.
During the cold winter months, Lake of the Woods transforms into one of the premier ice fishing locations in the country. The ice thickens around mid-December, and this is when you can expect to see a large number of anglers flocking to the Lake for ice fishing. Perch, Walleye, and Crappie are all on the menu. Don't be surprised if you see a whole shanty town raised on these frozen waters – the bite is that good.
You could spend a lifetime exploring the incredible fisheries Canada has to offer. There are thousands of stunningly beautiful settings for you to enjoy, all the while catching some of the most exciting fish species on the planet. No matter where you're from, fishing in Canada has to be on your bucket list.